Customer Satisfaction Survey (CSAT)
Effortlessly create a Customer Satisfaction (CSAT) Survey, distribute it to your audience, and track results in real time with CheckMarket. You're just a few clicks away.
Sign Up Free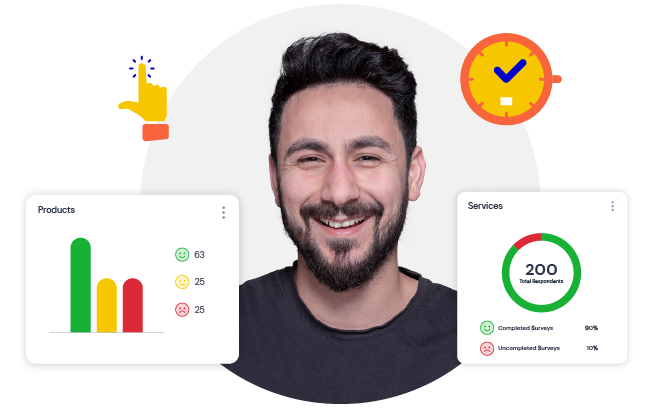 Create your own Customer Satisfaction Survey
Free template
Our research experts created a customer satisfaction survey template that you can immediately deploy to your audience.
Results in real time
Follow your customer satisfaction closely. Our tool automatically calculates your results and the breakdown of the respondent types in real time!
Try a sample survey
Discover the ease and elegance of CheckMarket with the sample survey below.
Share your survey results
You can see the results of your survey in real time.
CheckMarket's one-click filtering drill-down feature allows you to dig deeper into your data, including your own meta-data.
Generate native reports with the CSAT results in Excel, PowerPoint, Word, PDF, SPSS (fully-labeled) and CSV.
Create your own Customer Satisfaction survey today
Set up notifications for lower scores in real time.
Translate feedback into actions to correct common complaints.
Get everyone in your organization involved to improve your score.
Gather socio-demographics of your respondents which you can use for your customer database and in the analysis afterwards.
Offer your clients a small gift in exchange for their cooperation, for instance a discount on their next purchase.
If you use satisfaction scales, they should all be oriented in the same direction.
You can for instance work with 5-point scales or 7-point scales, but be consistent.
Use a neutral answer option in rating scales, and/or a 'Not applicable' answer option.
Measure, follow up and report continuously.