We all know online surveys are a great way to take your audience's pulse. They cover a broad range of topics ranging from customer satisfaction, Net Promoter Score (NPS), event feedback, product information, employee surveys, and everything in between.
But the value of survey data is dependent upon the sample size and response rate. If only a handful of people complete the survey, you don't get an accurate picture of the data you need.
On average, most companies see an online survey response rate between 5% and 30%. However, this rate often depends on your industry and survey intent. Internal surveys for employees and business partners tend to perform much better than external surveys going to customers.
Even if your online survey response rate is in the acceptable norm, wouldn't you love to see it climb higher and provide more valuable analytical data, so your company's strategies and objectives are more effective?
The methods we discuss below have shown proven results time and again.
Primary Factors that Affect Online Survey Response Rates
If you're wondering why people are not completing your survey, there may be variables affecting your response rate. Some of the most common include:
Motivation: Surveys take time to finish. What motivation does your audience have to spend their valuable time on your survey? Are you offering an incentive?
Type of Survey: How much effort are you asking people to commit to? Are they answering multiple-choice questions? Ranking their experiences from 1-5? Or are they typing answers to open-ended questions?
Ease and Clarity: If your survey is complicated to take and causes confusion with unclear instructions, your response rate is going to fall.
Anonymity: For some respondents, especially for in-house surveys, anonymity is important. Participants may be less likely to complete the survey honestly if they are worried about negative consequences.
Follow-Ups: People forget. It happens. Without a reminder, you may have lost someone who was willing to take the survey but simply forgot about it.
Validity: In an age of online scams, people are naturally suspicious of content that looks shady and/or comes from an unfamiliar source. Branding your surveys to look authentic can make a big impact on the response rate.
Survey Length: A 3-minute survey is much more likely to be completed than a 30-minute survey. Depending on your audience, short and sweet is the safest way to go if you want to see a higher completion rate.
Survey Topic: Niche subjects or sensitive content may get fewer responses than broader survey topics.
5 Tips to Boost Your Response Rate for Online Surveys
These proven methods have been shown to positively affect online survey response rates, boost participation, and improve the accuracy of your data.
1. Motivate Survey Takers with Incentives
Surveys aren't free. They cost someone's time to complete, and that is important to remember rather than take for granted.
Ideally, most people are willing to participate simply to be helpful or make their concerns known. But if you're struggling to reach a high online survey response rate, an extra incentive to compensate someone for their time can give you the boost you need.
Raffles for discounts, gift cards, and other prizes are a great incentive. If there is a prize at stake, even if the vast majority of your responders won't win anything, more people are willing to participate on the slim chance that they might.
Another incentive for budget-conscious businesses is to let people view the percentage of how other participants answered the questions after submitting their survey. While there is no prize, it does invoke curiosity to see if the majority was in agreement or disagreement.
2. Target the Right Audience Demographics
One of the biggest reasons for dismal online survey responses is an easy diagnosis — you are sending it to the wrong people. For example, someone who has purchased only shoes from a company isn't going to care about a favorite sweater style survey.
Instead of sending out one survey to your entire email subscriber list, consider taking a more targeted approach and segmenting your audience.
Depending on what information you are hoping to uncover in your survey, break your campaign up based on purchase frequency, shopping habits, flash sales, products, and even audience demographics such as age, location, gender, income, et cetera.
If you want to get good survey results, you have to make sure your survey is reaching the right people.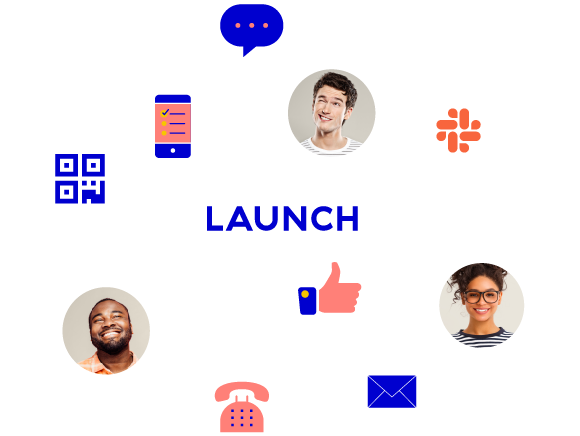 3. Tailor Your Messaging
Put the respondent rather than yourself or your brand at the center of your survey messaging.
In order to appeal to your potential survey taker, you need to convey two main points: you are genuinely interested in what the respondent has to say, and you are respectful of their time.
These points are easily incorporated into your messaging by letting the person know how long the survey is before they start. For example, you might say, "We want to know how we can make your next experience better! Please take 5 minutes to fill out our survey."
4. Be Relevant: Incorporate Survey Logic Rules and Pathways
Your audience isn't the only aspect that needs to be targeted strategically. The survey itself needs to be constrained to a single, relevant topic meant to accomplish a particular goal.
If someone is intrigued by your survey and starts to answer questions, their attitude is going to shift quickly if the survey starts to steer in a different direction than expected. As soon as the questions become irrelevant to the participant, the likelihood of them completing the survey drops.
Sometimes, loss of relevance is inevitable due to the range of answers a survey taker can select. Let's look at a hypothetical example survey question:
How often do you go to the gym?
Multiple times a day
Once a day
Several times a week
Once a week
A few times a month
A few times a year
Never
If a respondent answers "Never" and then every question afterward is about how they spend their time at the gym, this survey has become irrelevant, and that person is not likely to finish. Even if they do complete it, their answers aren't helpful to you because they don't actually go to a gym.
But this solution can be remedied by making sure your survey has relevant pathways. Answering "Never" could send the survey taker directly to the final "thank you for your time" page, or it could redirect them down a different path to learn more about why they never go to a gym.
Adding multiple branches in a survey helps to tailor the process so participants don't waste their time. This is also important for future surveys because if a respondent feels a survey was completely irrelevant, they aren't likely to take your future surveys.
5. Be Simple, Clear, and Concise
You may have a long list of questions you want to ask your customers, employees, and business partners. And that's fine. But you should seriously consider breaking those questions up into smaller, single-topic surveys rather than one giant, time-consuming one.
If a survey takes more than 5 minutes to complete, you can expect to see a response rate drop of about 15%. The longer the survey, the bigger the drop – surveys over 10 minutes long see up to a 40% drop.
The best-performing surveys give clear instructions, ask simple questions, and are concise and to-the-point. Don't overwhelm people with an endless list of wordy questions that may be repetitive and confusing. Choose the most important points you want to cover within a related topic.
The Importance of Online Survey Response Rates
If you're going to take the time to create and send out surveys, you want your data to be accurate. The best way to ensure that is to increase your sample size of responses.
Accurate survey data provides invaluable analytics that helps you pinpoint your target audience demographics, identify market trends, find pain points in your customer experience, learn what people love or hate about your products, and more.
Are you ready to level up your online survey response rates? Start a free trial today!
Sign Up Free